Me?? A Celebrity??
I am ALL about being a celebrity! Yes, I want to carry a tiny dog around in my purse! Yes, I want to be known for having NO talent or making NO contribution to humanity! Yes, I want everyone to want to be me!
MIGNON over at Thought Concoction told me that my picture yesterday made me look like a cute Teri Garr (I am living on the fact that she put cute in front of that name). Then she asked me if I went to a website that she recently blogged about. No, I hadn't gone. I just knew that I would be told I looked like Shelley Winters or M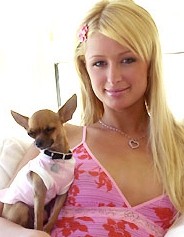 argaret Cho or worse, Tinkerbell, you know, Paris's only true friend.
Yesterday, curiosity got the better of me and let me be a cautionary tale for the rest of you.
If you go to www.myheritage.com it will make you join as a member first. Then you upload a picture and it will give you a list of celebrities you resemble. And, may I add that having two eyes and a mouth guarantees you will resemble someone that looks like they are using a dart board to determine this.
Here is the picture that I uploaded. No, I don't think it makes me look like a
celebrity but I needed a picture of just me that the "magical machine" could see.
Here is my ego-humbling list of celebrity look-a-likes
Mariah Carey (now I need emancipation)
Beyonce Knowles (why am I being compared to black women?? I don't even tan!)
Joan Collins (??)
Jeanne Moreau (the pic of her made her 100 if she was a day - and mighty unattractive)
Faye Dunaway
Meryl Streep (Hey, award winning!)
Joan Cusack (I am not flattered- funny but not flattering)
Miranda Richardson
Diane Kruger (now she is a hot blonde that I would LIKE to be compared to. Don't know who the hell she is but she is very pretty)
So, only go if you want a good laugh. And your self esteem is in good working order.