The Parent Trap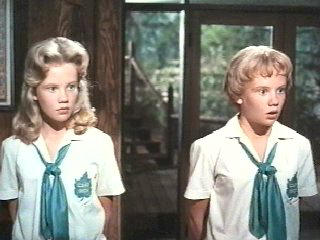 Over the weekend I noticed the original version of Disney's The Parent Trap with Haley Mills was coming on. I told my youngest that he needed to watch since I knew he'd only seen the newer one with the then adorable, now horrid Lindsey Lohan.
When the hubs walked through the room he was instantly riveted too since this is a movie we watched together for the first time while dating. I had seen it but he hadn't. We were in a hotel room on a romantic weekend. It was Sunday morning and we had ordered breakfast via room service. We laid and watched the original Parent Trap movie and loved it. Some people have "their song", we have "our movie."
No, it didn't used to bother me that Haley Mills spoke with an english accent and yet the one twin supposably grew up with Brian Keith in California and the other in Boston. Did casting director's back then think that no one would question that?
So, picture us all settled in on a Saturday afternoon watching this movie with the youngest in the middle of us. He thought all the camp hijinks and tricks were very funny. Then the girls' start to realize that maybe they look alike for a reason.
Shannon: When is your birthday?
Susan: November 12th? Why?
My hubby and I turn to each other with our mouth's hanging open in shock. That is the date of our middle (our first child together - my oldest was from a previous) son's birthday!!!!! Goosebumps rose on my arms and I actually got tears in my eyes over this coincidence.
This movie has always been a touchpoint for us. In the newer version the two Lindsey Lohans compare a torn picture and figure out they are twins. We had totally forgotten about this significant date.
On to a new subject: Wh
o has had any of this new Coke Blak? It has a coffee essence? I wanted to get some but they didn't have any diet. Let me know if its any good.