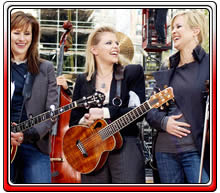 I've got a beef.
I am a huge fan of the Dixie Chicks. I have every CD and have been to one of their concerts. I can sing (although not well) every song. I consider myself an Honorary Chick. No, I don't think it was appropriate for them to air their political views in front of an audience that was paying to see them sing but its not like its the first time a performance artist expressed his/her views in front of an audience.
What I don't like is the way they have been black-balled and bad-mouthed. I find it interesting that actors such as Johnny Depp and Alec Baldwin can insult the U.S. and its policies and people do not boycott their movies.
But, my biggest beef is people tearing them down because of their looks. I know. You are frowning now and wondering where I am going here. Hang on. It's a bumpy ride.
My parents were just in town and something came up about the Chicks. My mother says (sorry, mom - don't worry ya'll, my mom doesn't read this) "I hate that short and fat one."
Whoa, whoa, whoa!
When did this become about looks? I suspect because they are women. This goes beyond the Dixie Chicks. Let me give you another example.
Re
cently, I was around someone who is in the military. He begins talking about Hilary Clinton and asked me if I thought she would be president. I answered that I didn't think so. I think she is a very smart lady but politically she seems to have too many people working against her. He starts in with this story about how she and Bill visited the Air Force Base he was stationed at. He then said her legs were like tree trunks and she was beaten within an inch of her life with an ugly stick.
Now I ask you, what do her looks have to do with her being president or smart? The last I noticed, President Bush isn't exactly PlayGirl material. Neither is John Dean. Now John Edwards? Hmmmmm, he's pretty cute. But that's another post.
I don't like that people (men and women alike) always go to a woman' s physical appearance. Men do not undergo the same scrutiny.
I am getting ready to re-enter the working world. Do I worry that I will look/feel old? Of course. I hope that I will be judged on my performance and not on my looks but I didn't just fall of the old turnip truck. I am perfectly aware that I will be judged on my appearance to a certain degree. Just please, please, don't let me hear you refer to me as the "short, fat one."
Added: Its been pointed out that I meant Howard Dean, not John Dean. Sorry, when I am frothing at the mouth I get a little crazy.